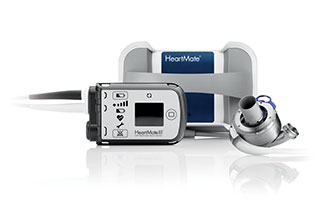 Abbott has announced the release of late-breaking showing that its HeartMate 3 heart pump extends survival of advanced heart failure patients by at least five years.
These data are from the MOMENTUM 3 trial, assessing long-term outcomes in people receiving a left ventricular assist device (LVAD) to treat advanced heart failure compared with an earlier generation of the device. The data were presented during a late-breaking session at the European Society of Cardiology (ESC) congress (26–29 August, Barcelona, Spain).
The MOMENTUM 3 trial studied more than 1,000 patients and found that people with advanced heart failure who received the HeartMate 3 heart pump lived beyond five years.
"The MOMENTUM 3 study proves that the HeartMate 3 heart pump has significantly moved the needle in terms of options for increasing life expectancy for our most advanced heart failure patients," said Divya Gupta (Emory Healthcare, Atlanta, USA). "This research shows strong consideration should be given for this life-extending therapy for the thousands of people who are in advanced heart failure and meet the indications for the HeartMate 3."
Many advanced heart failure patients who do not qualify for a heart transplant rely on medication or are referred to palliative care to manage symptoms.
The latest MOMENTUM 3 data also demonstrate that the five-year survival for HeartMate 3 patients (nearly 60%) is approaching the five-year survival rates of heart transplant recipients who have a similar risk profile.
"The finding that the HeartMate 3 device can reliably add years to one's life is compelling evidence for all cardiologists to evaluate their patients with progressive heart failure for this therapy," said Daniel J Goldstein (Montefiore Medical Center, New York, USA). "Earlier referral and intervention are critical for this population where it can be challenging to make an accurate diagnosis from physical symptoms alone. The latest MOMENTUM trial data help contextualise the benefits of heart pumps and will help more physicians work with their patients to explore this life-enhancing and life-prolonging alternative as their disease moves into the territory of advanced heart failure."